Selling Items On eBay For Beginners - Video Guide
A video tutorial on how being able to identify hot selling items on eBay can help you to sell well.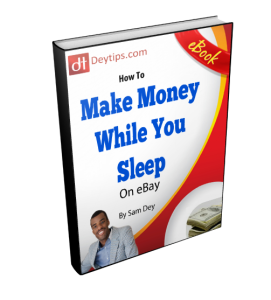 Enter your name and email address below to download my new eBook for FREE and learn exactly how to create an eBay business that makes money for you even while you sleep.
A Beginners Guide To Effectively Selling Items On eBay
4 Simple Steps To Selling Items On eBay
 Step 1) If you are a completely new eBay seller, I would recommend finding an unwanted or unused item in your house to put for sale on eBay. Not only is this a lot less risky than buying to re-sell, it will also give you valuable experience using the eBay seller platform. Another benefit to selling something that is originally yours is that you are likely to know the product a lot better. This will help you out when you come to describing your item to your customers (another weight off of your shoulder as a new seller). Now, try not to choose something too valuable or something that you feel you have too many memories with not only will you miss your item; you are also more likely to overprice the item due to your personal attachment to it. Most new sellers use this learning experience as a way to declutter their house whilst making extra money to potentially re-invest into their eBay business. I do this a lot and it is a great way to kill two birds with one stone.
Step 2) Identify whether the product you have chosen to sell is high in demand by checking out how many people are 'watching' your item. A 'watcher' is basically somebody who has seen your eBay listing and declared their interest in your product by adding it to their 'watch list'. This means that eBay will update them about your listing and notify them when your stock is running low etc. 


The above icons are some examples of what to look for when trying to identify whether a listing has a lot of popularity by means of 'watchers'. You can also visit a website called watcheditem.com. This will enable you to quickly find popular products.
Step 3) The second phase in identifying whether your product is in high demand is by analysing how many views per day or hour it is getting.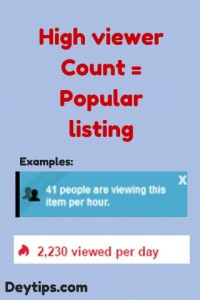 If a listing is getting a lot of people looking at it, eBay will notify you by using the above icons. If you find a listing that sells the item you are planning to sell and it has a lot of viewers, you can bet your bottom dollar that your item is high in demand and should do well on eBay.
Step 4) You also want to check how many sales per day or per week the top performing listings that are selling your item are doing and how they are doing it.


If a listing that is selling the item that you are planning to sell is making a lot of sales, it is a major indication that your product will sell really well. If you look for the icons above, you can easily identify eBay listings that are generating a lot of sales.
Useful Tip - eBay will not only tell you if a product has sold a lot of units but they will also show you when the last sale of that particular product was made and how frequently that particular product is selling. There are definitely fluctuations in demand as I mention in the 'eBay trends' page of my website. You want to make sure that your product is currently in demand by looking at how many units are being sold as well as how recently those units were sold.

Never Ever Ever create an eBay listing without first identifying the demand for your product, observing your competition and seeing what's selling on eBay. This shouldn't take you more than say 20 minutes max for you to do. If you do not do any research you are essentially just throwing your listing up onto eBay and hoping that it sticks.
If you put your items up for sale on eBay and they do not sale the first time, do not get discouraged. Analyse the analytics in your eBay dashboard for example, the amount of viewers your listing had and the amount of watchers you had. Use this information to improve your listing and try again. If you allow eBay to automatically re-list your item without you making any changes to it, you can probably hope for the same result unless you get lucky.
Make note of the time of year you are in! If it is the middle of summer and you are trying to sell leather jackets, your listings are less likely to sell so well. Keep your out of season stock stashed away for the right time of year where you are likely to capture the most amount of sales for the best price.
Frequently Asked Questions

Will I Make More Money Selling On Amazon Or Selling On eBay? 
A short answer to this question would be that it depends on the specific item that you are trying to sell. For instance; you may find through your research that the item you want to sell is selling for a higher price on Amazon than on eBay or vice versa. One thing to consider though is the demand on Amazon and or eBay. Although your item may be selling for more on Amazon, it may be selling a lot better on eBay in which case if you put the item for sale on Amazon it may take longer to sell. I would like to add however that in my opinion when it comes to selling on eBay vs Amazon especially for new sellers, I would recommend eBay for a number of reasons mainly due to the fact that eBay is slightly more forgiving to new sellers when it comes to seller performance. Lastly, although Amazon does not charge anything to list an item on their platform, they do tend to charge a higher final value fee than eBay and PayPal.
How Do I keep On Top Of The Taxes Associate With Selling On eBay?
As a rule of thumb you should always keep a good record of the receipts you accumulate that are directly associated with your eBay expenses. These will include your postage costs, packaging costs, wholesale expenses etc. You can also use online software's to keep track of your earnings.   
How will I know what my eBay selling Fees Are Before Listing My Item For Sale On eBay?
Before you post your listing on eBay, you will be told exactly what your listing fees will be. For your final value fee, you may have to calculate that yourself as it will depend on the amount you are selling your item for including postage. To find out more about this you can go back to my '
eBay selling fees
' page where I break this down even further. 
Make Money While You Sleep On eBay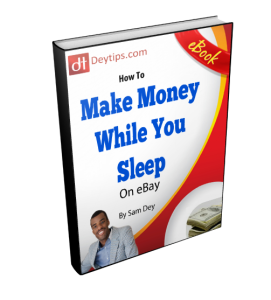 Enter your name and email address below to download my new eBook for FREE and learn exactly how to create an eBay business that makes money for you even while you sleep.
Email Me Your Questions
 Sam@deytips.com
Be The First To Get My Latest Tips:


Where You Can Find Me:
Hi guys its Sam Dey here the founder of deytips.com. For more useful tips and tricks to starting and growing your eBay business connect with me via the various social media platforms.
If you have any questions for me personally you can contact me at sam@deytips.com.