How to Calculate eBay Selling Fees - Video Tutorial 
In this short video you will learn how to calculate your eBay selling fees to ensure that your listings make a profit.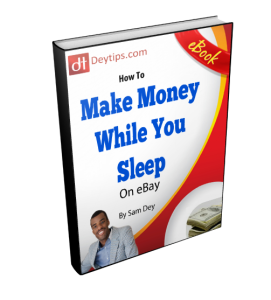 Enter your name and email address below to download my new eBook for FREE and learn exactly how to create an eBay business that makes money for you even while you sleep.
What Are eBay Selling Fees?
A deeper look into eBay Selling Fees
As I have mentioned on the 'eBay and PayPal' page of my website. There are a number of fees associated with selling on eBay. Here I will take you through exactly what they are and what types of methods you can use to ensure that you remain profitable despite these fees.
What are selling fees? - Selling fees are the charges made by eBay and PayPal for helping you to sell your items. There are two main types of fees to be aware of, namely 'Listing fees' and 'final value fees'. 
Listing fees - A 'Listing fee', commonly referred to as an 'insertion fee', is a fee that eBay will charge you to advertise your item on their website. If you place an advert for your product on eBay's website, this is known as a 'listing', hence the phrase 'listing fee'. The amount you pay for your eBay 'listing' or 'advert' can vary. It is normally only a couple of pence however if you add certain features to your listing for example a larger picture, more than 12 images, a subtitle etc., you can expect to be charged more for your listing. 
Final Value Fees - A final value fee is a fee that eBay and PayPal will charge you once your item has actually sold. If your listing does not sell on eBay you will not have to pay a final value fee. However if your item sells successfully on eBay, a percentage of the 'final value' will automatically go to PayPal and eBay.
Refunds - If a customer buys your product from eBay but then requests a refund; eBay and PayPal will reimburse your final value fee. However, your listing fee is non-refundable.
Re-list - If the item that you put up for sale on eBay does not sell successfully, eBay will usually give you the option to 're-list' that item. If you set your listing to re-list automatically; as soon as your listing comes to an end unsold, eBay will automatically re-list the item as much as 3 times without you having to pay any additional listing fees. If however, you do not sell the item by the third re-list, you will have to pay your usual listing fee.
Useful Tip - eBay will normally tell you what your insertion fee is whist you are creating and editing your listing. This is shown at the bottom of the page and you will notice that as you add certain features, for example a 13th image, your listing fee will increase. Your total final value fee combined to both PayPal and eBay is usually no more than 15%. If you want to work out how much money you will make from a product after your final value fee has been deducted you can multiply the price you are selling the item for by 0.85. For example, if you were selling a hair dryer for £100 you would work out the final value fee by doing £100 x 0.85 which gives you £85. So you will have £85 left after the final value fee from eBay and PayPal has been deducted. The percentage you will pay is not fixed; PayPal and eBay can change it at any time so it is important that you frequently check their websites respectively for their current final value fee. For more on calculating your final value fees watch the video above. 

If you are going to make money on eBay, you need to have a firm understanding of what your costs are going to be. This will ensure that you are making a profit on each item you sell. You would be amazed how many people list an item for sale on eBay without calculating 'ALL' of their costs beforehand and end up selling products at a loss. Your costs will include your listing fees, your final value fees, your cost per unit (if you have bought a product specifically to resell), your postage and packaging costs and any variable costs (Variable costs= unpredictable costs). I go into a little bit more detail about how to prepare and calculate these costs in the beginner and advanced sections of my latest tips blog (yes I do suggest you sign up to 'my newsletter' to stay up to date :P). 
As a rule of thumb, I tend to calculate my final value fee at 15% however; eBay and PayPal may change this fee in the future so I would recommend that you frequently check their website for updates on their fee percentage.
Frequently Asked Questions

What Kinds Of Things Should I Do If I Notice That My eBay Selling Fees Are Too High?
If you have purchased an item specifically to resell and you notice that your eBay fees are too high for you to turn a profit there are a number of things you might consider doing. 1) If your product is a seasonal product for example a pair of sunglasses. You may consider taking these off the eBay market until the peak of the summer period where you will probably be able to sell them for more money. 2) You might want to add value to your product by adding an extra item to it. For example, if you are trying to sell a mobile phone for £20 it may sell for £25 if you include the case with the phone in the same listing. 3) Create a better listing than your competitors. In the '
selling items on eBay
', page of my site as well as my
eBay blog
, you will find countless tips and tricks that will help your listing stand out from the crowd and sell a whole lot better than your competitors. If you create a better listing than your competitors, it is likely that your item will sell for more than you think.
How much does eBay charge for selling fees?
The most you can expect to pay for your eBay selling fees is a couple of pence for your listing and 15% for your final value fee. That 15% should cover both your PayPal fees and your eBay selling fees. Nonetheless, keep checking the eBay and PayPal website as they may change their rates at any time.
How Do I Pay For My Seller Fees On eBay?
eBay and PayPal make it easy for you to pay your fees. For listing fees; if your item does not sell within a month and you have no money inside of your PayPal account, your fees will normally be deducted automatically from your bank account. If you do have money in your PayPal account, it will normally be deducted from there. When it comes to final value fees, the money will be deducted before it is paid out to you. For example if you sold an item on eBay for £10 and your final value fee was 15% eBay would keep £1.50 and pay you £8.50.
Are The eBay Selling Fees For Business Any Cheaper?
If you have an eBay business account your selling fees are normally the same. For those who have had a registered PayPal account for a longer period of time, you may notice that you are charged less of a fee from PayPal when you make a sale. If however, you open an eBay store, you can expect your 
monthly eBay selling fees
to be reduced. I speak about this in more detail on the '
How to start an eBay store
' page of my website.
Make Money While You Sleep On eBay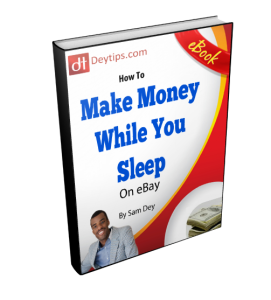 Enter your name and email address below to download my new eBook for FREE and learn exactly how to create an eBay business that makes money for you even while you sleep.
Email Me Your Questions
 Sam@deytips.com
Be The First To Get My Latest Tips:


Where You Can Find Me:
Hi guys its Sam Dey here the founder of deytips.com. For more useful tips and tricks to starting and growing your eBay business connect with me via the various social media platforms.
If you have any questions for me personally you can contact me at sam@deytips.com.