A Complete Beginners Guide To eBay and PayPal
Is eBay truly the right business model for you? In this video I speak about my personal experience as an eBay seller and why I feel It is an awesome business opportunity. I also speak about the relationship between eBay and PayPal so enjoy.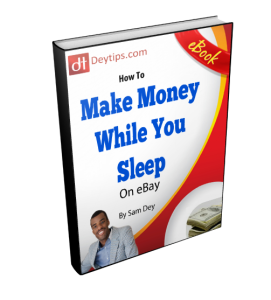 Enter your name and email address below to download my new eBook for FREE and learn exactly how to create an eBay business that makes money for you even while you sleep.
An Introduction Into eBay and Paypal
eBay and PayPal, what's the fuss about?
eBay - Firstly let's take a look into eBay. It's one of the largest ecommerce websites in the world and by 'ecommerce' I simply mean 'online shop'. As we are aware, the internet is increasingly becoming the new 'local shop' for us '21st Century consumers' and this is dramatically changing the way that business is being done. As I am writing this today there is currently around $1,839 worth of goods sold every second on eBay which should give you an indication into how much money there is to be made as an eBay third party seller. In saying that; eBay is one of the most widely used platforms by people who wish to sell their unwanted household items, electronic goods, cars and much more.  
eBay is commonly referred to as an online marketplace and it is exactly that. Sir Alan Sugar (the host of the BBC's Apprentice) started his career in business by selling at a local market. Nowadays, websites like eBay give normal people like you and me the opportunity to market our products to almost anyone across the globe. If Sir Alan Sugar can become a millionaire without having eBay at his disposal, then we have absolutely no excuse!

I know what you are thinking, eBay sounds great but what are the down sides right? Well, in my personal opinion, although eBay is a great way for the 21st Century entrepreneur to get their feet wet in business. Given the fact that eBay is largely used by amateur sellers, I believe eBay could do a much better job at training and educating their sellers to help them improve their customer service skills and increase sales.
 I have heard too many stories about third party eBay sellers being kicked off of the platform for getting too many negative reviews or having a poor seller performance. This is one of my main motivations behind deytips.com. Lucky enough for me, my mum trains businesses for a living in topics like customer care and how to increase profits so on and so forth. I have been able to glean off of her knowledge and use eBay as an income generating tool. I realize that not everyone has this type of an upper-hand.   
PayPal - PayPal is one of the most popular methods for sending and receiving payments on eBay. PayPal is a completely different website from eBay altogether and it is well known as a secure, online payment solution website, hence the reason why eBay and PayPal work closely together. If you are planning to make money on eBay as a third party seller the first two components you will need is an eBay account and a PayPal account.

Useful Tip - It is important to note that if you are planning to sell items on eBay there will be eBay and PayPal fees involved. eBay have two main types of fees; the first is known as a 'listing fee' or 'insertion fee'. This is a fee that eBay will charge you to advertise you product on their website. The second type of fee is known as a 'final value fee'. After your item has successfully been sold on eBay a percentage of the sale will go directly to eBay and then a percentage to PayPal. Always remember to deduct your Listing fees and final value fees when calculating how much money you will make from selling any particular item on eBay. For more information about this you can visit the 'quick guide to selling fees' page of my website where I explain this in more depth and show a simple method to easily calculate your eBay and PayPal fees.

It is important to remember that you will need to have a registered PayPal account that is linked to your eBay account before you can receive any type of payment on eBay. Sometimes eBay will allow you to list an item for sale without having your PayPal account linked but this will only delay your payments and we don't want that now do we? If you are not yet familiar with how to do this; I have a page dedicated to '

linking your eBay account to PayPal

'.
You should know exactly what your eBay and PayPal fees are before you list an item for sale on eBay. If you don't then you risk selling an item at a loss. Believe me; I have had a lot of my friends who have come to me with this exact issue. 
You can find some useful information by watching the video on the 'eBay selling fees' section of my website.
Frequently Asked Questions

How Do I find out the current eBay and PayPal Fees combined?
There are a number of ways to keep up to date with the latest
eBay and PayPal fees
. If you go to google.com and type in '
eBay and PayPal fees calculator
' you should find a number of websites that will automatically calculate the final value fee that you can expect to pay for any particular product. Alternatively you can keep checking the '
seller information
' section of eBays website. Also when you are creating your eBay listings, as long as you are using the advanced listing tool, eBay will tell you what your listing fees are before you post an item for sale and ask you to confirm that you are happy with this fee. Lastly and by no means least; check out the '
deytips.com blog
' to stay up to date with any eBay changes.
If I find that my eBay and PayPal fees are too High, is there a way to decrease them?
Changing your pricing strategy could dramatically affect how much you are charged in fees. For example, if you decided to list your item as an auction in some cases, eBay will allow you to list your item for free. Also the price you put on your item will determine how much you have to pay out as a percentage to eBay, so getting your pricing correct is really important. If you open up an eBay store it is likely that your eBay selling fees will decrease per unit you sell and you will also benefit from a number of inclusive listings. Lastly, once you build up a certain level of trust with PayPal, you can expect to see your PayPal fees drop by a percent or two. 
Make Money While You Sleep On eBay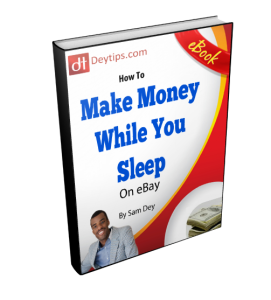 Enter your name and email address below to download my new eBook for FREE and learn exactly how to create an eBay business that makes money for you even while you sleep.
Email Me Your Questions
 Sam@deytips.com
Be The First To Get My Latest Tips:


Where You Can Find Me:
Hi guys its Sam Dey here the founder of deytips.com. For more useful tips and tricks to starting and growing your eBay business connect with me via the various social media platforms.
If you have any questions for me personally you can contact me at sam@deytips.com.