Finding Top Selling items On eBay
In this video tutorial I go through some of the steps you can to take to find new and profitable products to add to your inventory.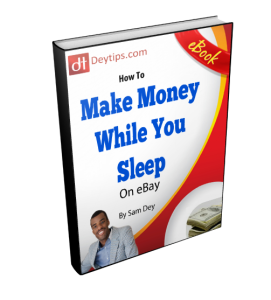 Enter your name and email address below to download my new eBook for FREE and learn exactly how to create an eBay business that makes money for you even while you sleep.
A Guide To Finding Top Selling items On eBay

Steps To Finding Top Selling Items On eBay
Step 1) The main reason for you wanting to prospect for top selling items on eBay is likely because you are looking to grow your eBay inventory and stock more items to sell. The last thing you want is to buy an item wholesale (in bulk) and for it to stay on your shelf for weeks or even months without selling. The very first thing you want to do when looking for a new item to invest in is to start identifying listings that are already popular to generate ideas and prospect for trends. If you need assistance in doing this I have written a page about it on the 'selling items on eBay' page of my website so I suggest you take a look and then come back to this page.
Step 2) Search broadly - If you sell niche related products (products that are related to a specific ordinance) you will want to conduct market research by doing broad searches within eBay to see if there are any opportunities for you. For example, if you sell cases for electronic devices and you want to find a new top selling case that you can add to your inventory. You would go to eBay and type in a broad search related to your niche. In mind of this example I would want to type in something like 'cases' in the 'computers, tablets and networking' category of eBay. This will bring up a bunch of items related to the niche and sort them by the top selling items on eBay as well as the most popular.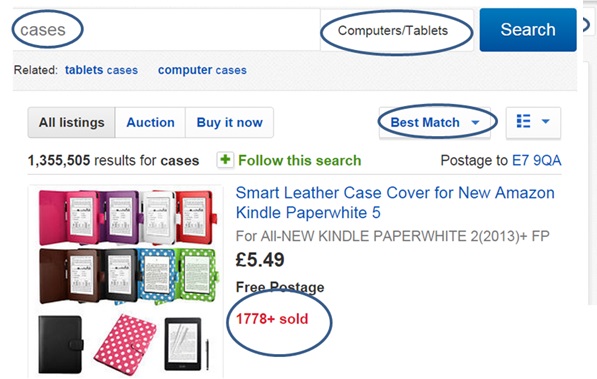 As you can see in the above example, the very first listing that appears is an item related to my example niche that has made over 1700 sales! If i continue scrolling down the page I am sure I will find a ton of items in my niche that I could potentially try to source at a wholesale price and re-sell.
Stage 3) Following on from the above example, let's say that I have just gone broad looking for cases in the 'computers, tablets and networking' category and I found the 'smart leather case cover for new amazon kindle paper 5' as in the example above. The next stage is to 'go deep'. To do this you will research the kindle paper 5 market to see who is selling it, who is making the most money with it, whether or not it is a saturated market or a market you can penetrate. Here are a few websites that you will want to check out in order to broaden your research:
eBay (always start here, you can use advanced search tool when you are going deep)

'

Terapeak

' (This is a premium research tool that I personally use and endorse)

Amazon

Wathceditem.com

Google keywords tool
Step 4) OK, so let's say you thoroughly research the item that you are thinking of finding at a wholesale price. Do you go into the deep end and risk huge amounts of money buying this item? The short answer is no. There are a number of things that could go wrong even after you find a product that you believe in and you think will sell really well and below I have listed some of the common issues that people face: 
Scam wholesalers - Yes, you have probably heard thousands of times on the internet how easy it is to get scammed on the internet with wholesale suppliers. To avoid falling into this trap, you will want to do some background research. For example, certain products have to meet certain regulations in order to be sold. As a disclaimer, I am not a layer neither do I give legal advice however I would recommend seeking legal advice (depending on where you live you will probably be able to access this for free) before you work with any supplier. You will want to find out from the legal professional what type of questions you need to ask the supplier and what documentation and agreements you may need before you proceed in making any purchase. 

Shipping costs too high - You want to check how much your item will cost you to ship. In the next step I am going to teach you how to get sample copies of your potentially profitable product. Once you get these samples, you may want to take them to your post office or your chosen courier if you do not already know the cost to ship the item and find out exactly how much it will cost you to send the items to your local and international customers.

 Cannot find the item you are looking for at a cheap enough wholesale price - There are a number of reasons why you might not find your item at a cheap enough wholesale price. You may even notice that some sellers on eBay are selling the item for less than the wholesalers. There are a number of reasons why a supplier may have been able to out price you in any given niche. The main reason is usually a term known as 'economies of scale'. I explain this in more detail in the '

exanding your eBay business

' section of my website.

Can't find the product. Period - If you cannot find the product at a wholesale price there are two main things you can do. 1) you can purchase the item from the eBay seller you found it from, contact a supplier and have them manufacture the item for you. 2) Post a buying request at a website such as 'alibaba.com' and after a couple of hours, suppliers will contact you if they are able to supply the product you are looking for.
Useful Tip - Comprehensive research is important for the growth and sustainability of your eBay business. However, research can become overwhelming at times and I don't want you to feel stuck in your search for potentially profitable products to run with. There are so many tips and tricks I have learnt that have helped me to find much success when it comes to finding top selling items on eBay. If you subscribe to my 'blog' you will notice that I frequently post my latest tips and tricks that will help you become more efficient with your eBay market research.

Market penetration on eBay is a lot easier than market creation. What do I mean by this? Well, if you notice that a certain item is doing really well on eBay, it is likely that as long as I am able to find that product at a cheap enough wholesale price I will also do well with it. On the other hand, if I chose to sell an item that is not already selling well on eBay it might be a lot harder for me to make a lot of money from that product. Don't get me wrong, it is not impossible to make a lot of money from a product that is not yet known on eBay; however this will require a lot more skill. 
When starting an eBay business, I would recommend finding a niche that you cater for. Reason being; you want to build a loyal customer base that you can re-market to again and again. For example, if your niche is dog supplies and someone buys something from your eBay store; you know that that person is interested in dog suppliers. You can use this information to re-market to them and promote your other dog related products later down the line either through your eBay store newsletter or by sending a business card along with their order. This builds repeat customers which is essential if you are trying to build a sustainable business.
Keep an eye out for trends within your niche. I speak about this more in depth in the 'eBay trends' section of my website. It is important to note however that if a product is a part of a trend, the demand for that item may not last for too long. For example, the top selling items on eBay in 2014, may not still be the top selling items on eBay in 2015.
Frequently Asked Questions

How Long Will A Top Selling Item On eBay Remain Hot Selling For?
An item that is top selling on eBay now may not be in a matter of weeks or months. There are a number of reasons for this. Firstly if you are in a niche that changes rapidly you always need to stay current to avoid missing the latest trends. For example, if you sell mobile phone accessories, as we know, nowadays new smart phones are hitting the market almost every month. It is important that you stay on top of these trends so that you don't invest too heavily in a product that is depreciating in popularity. Secondly, some products are seasonal; if you are selling sunglasses for example, your sales are likely to peak in the summer time and depreciate in the winter months. You should plan ahead and perhaps also offer products that sell well during the winter months to balance this out.
Are There Any Products I Should Avoid Selling?
As I have mentioned before, I personally like to seek free legal advice before I make a decision to buy a product wholesale. This way I know the types of questions I should ask any potential supplier like, what documentation my supplier should have and what types of agreements I should have with my supplier. If you wish to sell name brand products, please do not buy them from any third party wholesaler. Usually you will have to become an authorized dealer to sell name brand products. Also try to avoid products that may infringe upon other companies copyrights. I hope now you are starting to see the importance of having legal advice. If you sell an item that eBay suspects infringes on anyone's copyright your item will be taken down, no questions asked unless you can prove that you have authorized dealership to do so. I am not a lawyer and do not give legal advice hence why I recommend seeking professional legal advice before exchanging cash with a supplier.
Make Money While You Sleep On eBay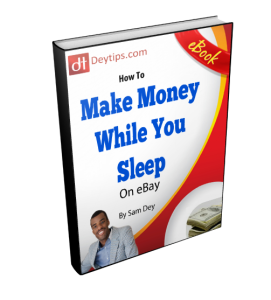 Enter your name and email address below to download my new eBook for FREE and learn exactly how to create an eBay business that makes money for you even while you sleep.
Email Me Your Questions
 Sam@deytips.com
Be The First To Get My Latest Tips:


Where You Can Find Me:
Hi guys its Sam Dey here the founder of deytips.com. For more useful tips and tricks to starting and growing your eBay business connect with me via the various social media platforms.
If you have any questions for me personally you can contact me at sam@deytips.com.