What to look out for when starting an eBay store

This video will walk you through the benefits of owning an eBay store and will give you some useful tips and tricks that will come in handy when you own your own eBay shop.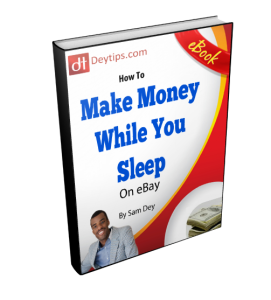 Enter your name and email address below to download my new eBook for FREE and learn exactly how to create an eBay business that makes money for you even while you sleep.
So, You Want To Know How To Start An eBay Store?
How To Start An eBay Store Successfully
There are three types of eBay stores that you can start; each have different requirements that you have to meet in order to begin. The main requirements will include your performance so far as an eBay seller. Below are the three types of eBay stores available: 
Store type 1) eBay Basic Store:  
 Store type 2) eBay Featured Store:
 Store type 3) eBay Anchor Store:
The really cool thing about the three types of eBay stores is that you can begin to see how your eBay business should be growing. If you are doing the right types of things i.e., providing good customer service, finding profitable products and marketing your listings correctly you will begin to go from a basic store to an anchor store.

Useful Tip - There are a number of things to consider when starting and growing your eBay store: 
Search Engine Optimization (SEO) - SEO in the context of owning an eBay store is basically the ability to attract potential customers directly from search engines such as Google, Bing and Ask Geeves to your eBay store for free. For example, if you have an eBay store that sells Trevor James Saxophones, if you own an eBay store, you have an option to choose primary keywords, secondary keywords and category keywords. By having the term 'Trevor James Saxophone' as a part of the keywords in your store, your eBay listing could potentially show up as one of the websites when someone types in 'Trevor James saxophones' in one of the search engines. Now, there is a little bit more to having your eBay store appear on the first page of search engines then just having your keywords. If you follow 'my blog' I will be updating on how you can optimize your eBay listings for search engine traffic regularly, also if you 'subscribe' to my email list you will receive these updates by email, hopefully you can see the benefits of becoming a deytips.com subscriber :). If you already have an eBay store, I would recommend that the next time you log in, go to 'My eBay' and then click on 'manage my shop' and then you will see a tab that says 'keywords' on the top left hand side of the page. You want to click on that and select keywords that reflect your eBay store to help increase the visibility of your store in the search engines.

Another really cool feature to having an eBay store is that you can upload a custom logo and design to your store. This often helps you to stand out from your competition and makes you look a lot more professional. If you don't have any background skills in computer design you can cheaply hire someone on fiverr.com or freelancer.com or a similar website where you can get someone to design for you a logo and an eBay store very inexpensively. 

With an eBay store you can also use the 'listing frame' tool to customize the look and feel of your eBay store. This could be a really effective way to keep people coming back and buying from items from you. Think about it, if someone is buying a computer from you for example and they see to the left of your eBay store that you also offer laptop cases. You have a better chance of up-selling that customer.

 When you have an eBay store you are given an alternative listing duration option. With this option you are allowed to list items with a 'good till cancelled' time duration. This will mean that after every 30 days, eBay will automatically carry over your listing and your watch count, viewers and sales will stay the same. There are pros and cons to having this however at least with an eBay store you have the option to turn this on or off.

It is important to remember that although with an eBay store you have a fixed amount of items you can list for free, if you go over that amount, you will be charged to list your items. You will also still be charges a final value fee for your item although this fee is usually less when you have an eBay store. 

Once you start an eBay store you can also start a 'newsletter'with this feature you are able to capture leads and send them related products later down the line. This is a great way to develop repeat customers and grow your business.
If you are already making a decent amount of money on eBay and you would like to scale up what you are doing; setting up an eBay store may be a step in the right direction for you. As you should know by now, eBay normally charge you two types of listing fees when you have a non-premium seller account. These are your final value fees and your listing fees. One of the most attractive things about owning an eBay store is that you get 150-200 listings (or more depending on your store package) which are included in your fixed monthly price. If you are at the stage where you are listing multiple items, this again is probably something you could take advantage of. Before you start your store however, you will want to be already earning over the monthly charge in order for it to make any sense for you.

If you are looking to increase the amount of visitors that you get to your store through search engine optimization, it would be a good idea to use the Google keywords tool. You will need a Gmail account to access this tool but it will tell you exactly how many searches per month certain keywords are getting and will give you some direction into what keywords you want to be targeting.
If you wanted to design your logo and eBay store yourself, there are some really helpful tools out there. The most popular one being 'Photoshop'. This software can be difficult to learn and whilst you can spend time going through tutorials on YouTube learning how to use it, I would personally recommend that you hire someone cheaply to do this work for you. On fiverr.com you can hire someone for as little as $5.
Frequently Asked Questions

How Do I Get Started with an eBay shop?
Simply log into your eBay account, hover over the 'my account' tab and click 'selling'. You then need to find the 'account' tab; hover over that and click the 'subscriptions' tab at the bottom.
Should I Open An eBay Shop?
This is a very popular question and the answer really depends upon where you are financially at the moment, where your eBay business is and the direction of which your eBay business is heading. If you do not currently list at least 100 items per month on average, an eBay store may or may not be of benefit to you. There are other features to the eBay store which may help you to achieve greater success. You really have to analyse where your business is and make the decision that you feel most comfortable with. Also, do not go for an eBay shop if you cannot yet afford it! This goes without saying but you will be shooting yourself in the foot if you start an eBay store and your business cannot yet support the transition.
How To Start An eBay Store Without Inventory?
Some people adopt a technique known as 'drop shipping'. This is basically where you list items for sale on eBay that you do not stock. For example, if I wanted to drop-ship an iPhone from amazon to eBay I would list the iPhone on eBay and once it has sold I would buy it from amazon (at a cheaper price) and instead of putting my address I would put the address of the person who bought it from me so it would deliver straight to them. There are a lot of questionable drop-ship related products and services out there at the moment and I will be mentioning the ones to 'STAY AWAY FROM' in my blog and YouTube videos.
How much is an 
eBay
 shop?
Depending on where you live, you will pay different amounts for your eBay store. 
For UK eBay sellers:
Basic shop: £17.38 per month
Featured shop: £52.17 per month
Anchor shop: £217.38 per month
For US and Canadian sellers
Basic store: $19.95/month or $15.95/month (yearly subscription)
Premium store: $59.95/month or $49.95/month (yearly subscription)
Anchor store: $199.95/month or $179.95/month
For Australian sellers
Basic store: $19.95 / month
Featured Store: $49.95 / month
Anchore Store:$499.95 / month
Make Money While You Sleep On eBay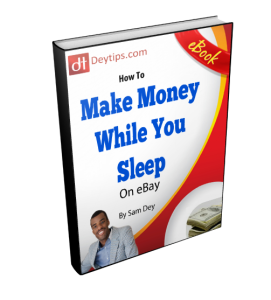 Enter your name and email address below to download my new eBook for FREE and learn exactly how to create an eBay business that makes money for you even while you sleep.
Email Me Your Questions
 Sam@deytips.com
Be The First To Get My Latest Tips:


Where You Can Find Me:
Hi guys its Sam Dey here the founder of deytips.com. For more useful tips and tricks to starting and growing your eBay business connect with me via the various social media platforms.
If you have any questions for me personally you can contact me at sam@deytips.com.