How to sell on eBay Effectively
In this video, I walk you through exactly how to sell on eBay effectively including my tips and tricks to creating profitable eBay listings.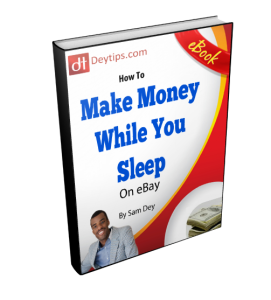 Enter your name and email address below to download my new eBook for FREE and learn exactly how to create an eBay business that makes money for you even while you sleep.
Learn How To Sell On eBay Effectively in 8 Simple Steps
How to Sell On eBay (the right way)
Creating eBay listings that sell really well is not as difficult as it may seem. I have devised a simple step by step guide that I use and hopefully this will help you to create really profitable eBay listings.
Step 1) Know your product - It is important to have a really good understanding of your product before listing it on eBay. This will ensure that you give the item as much description as possible and will also help you to answer any questions that potential customers may have. Remember, your customer does not get to physically hold and test the item before making a purchase decision so the more description you are able to give, the better. It is also important to know if your product has any seasonal fluctuations. If you are selling wedding related products for example, you may notice that your sales during the summer are considerably higher than they are in the winter. You can use this information to your advantage when it comes to stock management and make sure you have more stock in the summer than you do in the winter. Likewise, you may also want to diversify your product range and include products that peak during the times that your other products tend to experience a decline in sales. 
Step 2) Knowing your competition - The basic business principle 'supply and demand' could not be more important when attempting to make money on eBay. The first thing you should do before listing your item for sale on eBay is to see who is already selling your item. Find your item in the eBay market place, see who is doing well selling it, see who is not doing so well with it and generate ideas as to how you can do better. 
Step 3) Creating an attractive shop window - Whenever you walk past a successful high street store you will notice that their shop window always looks really attractive. This is purposely done to attract a lot of visitors. If a shop gets a lot of people walking past their window but not enough people are walking in, I can almost guarantee that the shop manager would want to change the shop window display to attract more customers into their shop. The same could be said about eBay listings. Your shop window is everything that a potential customer will see before they decided to click on your listing. Let me go into this a bit further and pretend that you are shopping on eBay and you want to buy an iPod touch. The first thing you do as a customer is type the keyword 'iPhone touch' into the eBay search bar. Hundreds if not thousands of related listings will show up and eBay breaks these down into pages. It is important to note that you do not see the entire advert for any listing unless you decide to click on it you only see a snippet.  This snippet is what I like to call the 'eBay shop window'. What you show in your eBay shop window could be the difference between getting a lot of people clicking on your advert or not.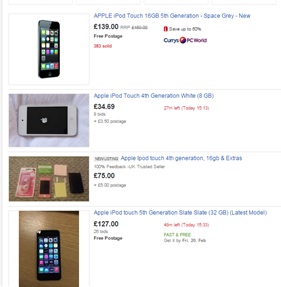 Above are three examples of eBay shop windows and as I mentioned earlier these are just snapshots of the actually listing.

Step 4) Creating an attractive eBay listing - This step involves taking attractive images of your product, using creative design within your eBay description perhaps making use of the eBay HTML editor. For more tips on creating attractive images for your listings check out the 'attractive eBay images' page of my website and if you do not know how to use the eBay HTML tool I teach you on the 'eBay HTML' page. The more attractive your eBay listing is; the better chance you have of selling your items. You want to make sure you put effort into making your listing look great. 
Step 5) Offer a USP - This applies mostly if you are selling a competitive product and you want to stand out from the competition. Personally I find that offering people a free gift when they purchase my item attracts a lot more people to my eBay listings and gives them an incentive to buy from me instead of my competitors. If you do choose to give away a free gift, make sure it is not so expensive to eat away at your profit margin but that it also relates to the product that you are selling. For example, if you are selling a digital camera, you may give away a few sheets of glossy photograph paper. It will also serve you well to be as price competitive as you can, eBay is well known to be a website where you can find a bargain. If you notice that your item is priced much higher than your competitors and as a result you are not getting any sales; you may consider either lowering your price or changing your tactics completely. 
Step 6) Monitor and test - Once your eBay listing has been running for about 3-4 days; check your eBay analytics and monitor how many clicks you have, how many watchers you have and how many of these clicks and watchers have converted into sales. The following points should help you to improve your eBay listing:
If you notice that your eBay listing is not showing up for relevant search terms and as a result you are not getting a lot of clicks, you will want to reconsider the title of your advert. Perhaps adding your main keyword twice whilst still making it sound natural. 

If you find that you are showing up fairly high for relevant key terms but you are still not getting many clicks; you might want to make changes to your shop window. This includes your display picture, your pricing and your sub-title.

If you find that you are getting a lot of people clicking on your eBay listing but not a lot of people are interacting with it i.e. either watching or buying. You don't want to change your title or your shop window because those elements are working for you. You may however want to change your price (and shipping charges), your postage cost, your pictures (not including your display picture), and your description. If you are not using HTML in your description you may want to add that or if your description is not detailed enough you may also want to add to it. 

If you're listing is appearing relatively high when you search eBay for related terms, if your getting a lot of people clicking on your advert and a lot of people watching your item but no sales; your item is likely to start selling very soon so keep monitoring it. 
Step 7) Capturing leads - If you are using an eBay stall, you are able to send out newsletters to your buyers. Utilize this by sending out niche related adverts to your other eBay products. Once someone has bought an item from you, you might also want to send them some form of promotional material to promote your website or other products you are selling on eBay.
Step 8) Self-promotion - You don't have to leave all of the promotion related work to eBay; there are lots of ways to drive potential customers to your eBay listings which include creating a niche related YouTube channel, creating a website, using social media to generate traffic and optimizing your eBay listing for a Google search. If you look through my website, in particular my eBay blog, you will find useful tips on how to do all of these things.
Useful Tip - Just because you are selling a product that is in demand does not guarantee that your listing will sell. More often than not, the product itself is only 50% of the battle. eBay is all about creating profitable 'listings' just as much as it is about sourcing products that are in demand.  

Most eBay sellers will list their item for sale and hope for the best. It is important to analyse your analytics and see what listings work well for you. If your eBay listing is not selling, don't just leave it to re-list by itself. Analyse the data and try to improve your sales. 
If you strike gold and your eBay listing is selling well, you may want to add another listing similar to it but with a few changes here and there. See whether the changes have brought better results or not and keep the one that performs the best. 
Try to move with the trends for example; if you are in the month of December, try to adapt your listing to the season by 'using the eBay HTML tool'. Likewise if its Valentine 's Day or summer time it may affect the way in which you choose to list your item. Always try to optimize your listings to reflect the current trends and season where possible. I go into this in more detail on the 'eBay trends' page of my website.
Frequently Asked Questions

Do You Have Any Advice As To How To Sell A Car On eBay?
When selling a car on eBay motors, I would strongly suggest having a video included within your eBay listing that clearly shows the main features of the car. If it is your personal car then state clearly the reasons why you are selling it. 
How To Sell On eBay Successfully?
If you are not already selling successfully on eBay, you will want to ask yourself the following questions: 
Are the products I am selling in demand? 
Do I have an attractive eBay listing including nice images and HTML?
Do I have the correct keywords in my title?
Is my pricing competitive? 
Is my product out of season or no longer trendy? 
I Have Edited my eBay Listing And It Is Still Not Selling. What Should I Do?
Sometimes your competitors may reduce the price if they notice that you have listed a similar item. Keep an eye on what your competitors are doing especially if you notice a lack or decline in sales.
How To Sell On eBay For Beginners?
If you are a complete beginner to eBay I would I would highly recommend looking at the beginner pages of my website. In those sections I teach you how to start selling on eBay with little or no initial investment.
Make Money While You Sleep On eBay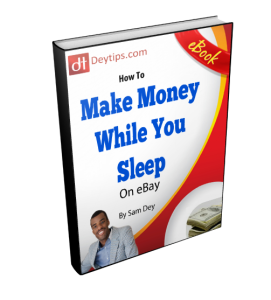 Enter your name and email address below to download my new eBook for FREE and learn exactly how to create an eBay business that makes money for you even while you sleep.
Email Me Your Questions
 Sam@deytips.com
Be The First To Get My Latest Tips:


Where You Can Find Me:
Hi guys its Sam Dey here the founder of deytips.com. For more useful tips and tricks to starting and growing your eBay business connect with me via the various social media platforms.
If you have any questions for me personally you can contact me at sam@deytips.com.