eBay HTML and Sellercore - Tutorial Video
In this video you will learn how to use a free eBay HTML builder to help make your eBay listings stand out from the crowd.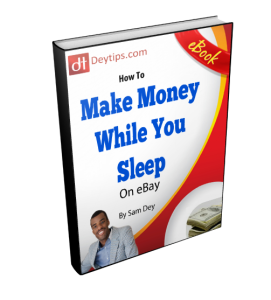 Enter your name and email address below to download my new eBook for FREE and learn exactly how to create an eBay business that makes money for you even while you sleep.
Getting To Grips With eBay HTML
How to use the eBay HTML tool to attract more sales
The tiger_marketing_group published an article on eBay showing how adding video to their listing affected their sales. They noted that 'the closing bids from the auctions with video were at least 25% more than the ones without'. Despite the fact that images and video in an eBay description can dramatically improve sales, most sellers do not know how to utilize this to their advantage. Below are some steps that you can take to include HTML into your eBay listings for free.
What is eBay HTML? 
HTML in simple terms is a type of coded language that computers understand. You will notice whilst creating your eBay listings that there are two options when it comes to your description. You can either add the description of your item in plain text or with HTML which will allow you to add videos, images, boarders and more to your eBay listing.
How to Use eBay's HTML option?
1. Go To www.sellercore.com - Sellercore.com provides free HTML templates for eBay users. You can use their editing software without even signing up for an account however, I do recommend registering for an account as this way you can save your templates and come back to them later. 
2. Find a template that matches the item you want to sell - Once you are inside the sellercore.com editor you should see something similar to this: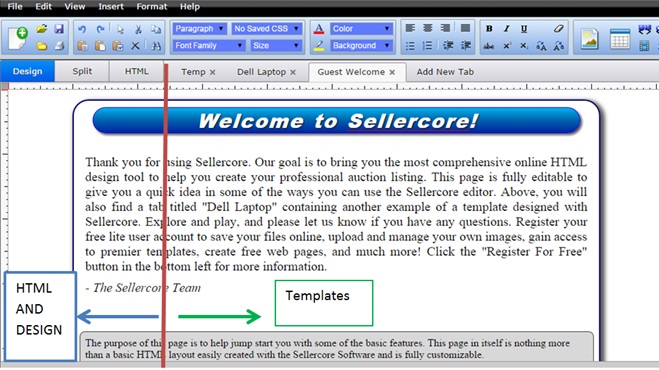 There are three tabs on the left entitled 'design, split and HTML' and the tabs on the right are all templates. If you watch the video above I will show you exactly how to find a template and edit it.
3. Add your video and images
 Adding an image to sellercore takes an extra step. The first thing you need to do is find the image icon which is located on the top right hand corner of the sellercore.com dashboard.

When you click on this icon, you will notice that it asks you to provide an image URL. Every image on the internet has an image URL and you can find it buy right clicking on the item and clicking 'copy image URL' as seen below.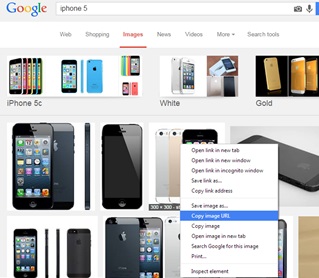 If you want to add an image to sellercore.com from your computer it will not have an image URL as it is not hosted on the internet. You will have to go to another free website called tinypic.com and I explain exactly how to do this in the video below. You can also use tinypic.com to upload videos to sellercore but the easiest way to upload videos is by first uploading the video to YouTube and then copying the embed code. Another benefit to uploading your video to YouTube is the free promotion that this could bring to your listing.
Useful Tip:
Adding HTML to your eBay listings can be difficult to get your head around if you are new to it. I would advise that you take the time to watch the above video as many times as you need as I take you through the process step by step.

When creating the HTML for your eBay listing, it is important to first check what your competitors are doing and not doing. You can get some really good ideas from what they are doing and improve upon what they are not doing to help increase your sales. 
If you do not find an eBay html template that matches your item by using sellercore.com you can use an alternative HTML management system by searching for 'HTML editor'. 
A useful video to have in your description is usually a 360 degree pan of your item, remember, your customer does not get the privilege of touching your item so the more detail you give them the better. 
Frequently Asked Questions

Can I Use eBay HTML For Both Auction And Buy It Now Listings?
Yes, the HTML feature is available both to buy it now and auction listings.
Are There Any Other free eBay HTML Builders That You Use And Could 
Recommend
?
I would recommend the following free HTML editing tools
Make Money While You Sleep On eBay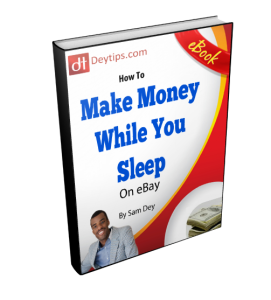 Enter your name and email address below to download my new eBook for FREE and learn exactly how to create an eBay business that makes money for you even while you sleep.
Email Me Your Questions
 Sam@deytips.com
Be The First To Get My Latest Tips:


Where You Can Find Me:
Hi guys its Sam Dey here the founder of deytips.com. For more useful tips and tricks to starting and growing your eBay business connect with me via the various social media platforms.
If you have any questions for me personally you can contact me at sam@deytips.com.