Identifying eBay trends - Video
It is going to become increasingly important as your eBay business grows to understand trends and know how to identify them within your niche.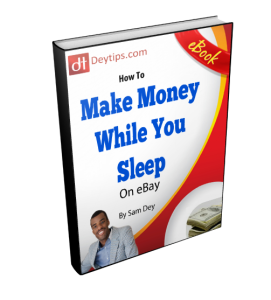 Enter your name and email address below to download my new eBook for FREE and learn exactly how to create an eBay business that makes money for you even while you sleep.
Using eBay Trends To Grow Your Business
What Do I mean By Trends?
By a trend I simply mean something that is important to a large number of people normally for a limited time until the next 'thing' or 'trend' takes it places.
Why are trends important to growing your eBay business?
If you neglect the importance of adjusting to the latest trends within your niche, this could adversely affect the growth of your eBay business. For example, if you are in the mobile phone accessory niche you will know that new mobile phones come to market almost on a daily basis, if you do not keep up to date with the latest and most popular phones, you are potentially leaving a great deal of money on the table. Not only that, but phones tend to go in and out of fashion quickly. The last thing you would want to do is invest heavily into a particular product line of which is reaching a decline in its popularity or that is receiving negative reviews either from customers or the press.
Keeping up to date with trends
Below are a few strategies that you can use to identify current eBay trends and prepare for emerging ones.
Google Keywords Tool - This is a free tool that Google provides which will show you how often any particular keyword or phrase has been searched for as well as the trends over the last 12/13 months.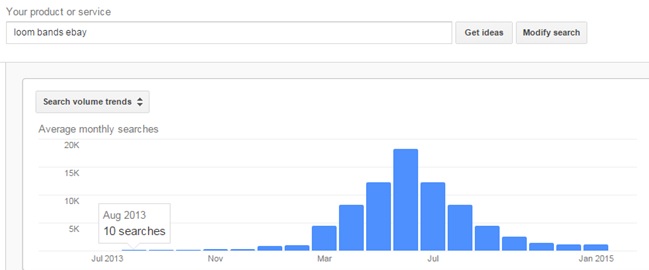 Above is a graph from the google keywords tool. I searched for the term 'loom bands eBay' as you can see from the graph, 'loom bands' had a dramatic spike in its popularity. In August 2013 as there were only an average of 10 people per month searching for this term on Google. 10 months later this number peaked at just fewer than 20 thousand before declining rapidly down to 1000 searches by January 2015. This shows how important it is to keep up to date with trends as an eBay seller. This particular product probably would have been a really good investment in 2013 if this was your niche, however, you would probably stock this product with more caution in 2013 and beyond as its popularity declines.
YouTube - YouTube is a great research tool when searching for current trends in your niche. 'Youtube.com/charts' will show you the most popular videos that are currently trending on YouTube. Also, you can filter your searches by date. This is a quick way to determine what types of videos have been getting the most amount of attention in the last few weeks or months. According to internetretailer.com 'by 2017, 60% of all U.S. retail sales will involve the Internet in some way, either as a direct e-commerce transaction or as part of a shopper's research on a laptop or mobile device'. If a particular product is getting a lot of mentions in YouTube videos, it is a good indication that the item is a good investment.
eBay Search Results - Arguable the most effective way you can identify what is currently trending on eBay is to search eBay itself. There are a number of things to look out for when searching eBays website for potentially profitable products most of which I have covered on the 'finding top selling items' page of my website. 
eBay and Google Suggested Results - When you search for something on either Google or eBay, you will notice that the search engine will give you a number of suggestions before you finish typing in your search query as demonstrated below.

These suggested results are not there by mistake, they are there because people have searched for them in the past and they may give you a few results that help you search for the latest emerging trends. In the above example I typed 'sports socks wi' into the Google search bar and it returned results such as 'sports socks with grip', 'sports socks with toes' etc. If my niche was selling sports socks on eBay and I wanted to increase my product range, this could potentially give me a few ideas as to what people are asking Google or eBay for.
Useful Tip - Don't just stick to one research method, try using as a bunch of different strategies and methods before adding a particular product to your inventory. Identifying what is trending in your given niche could help you find a really profitable Item.

Keeping an eye on the news and popular blogs within your niche will help you to identify emerging trends within your niche. For example, if you sell car accessories and a new law is passed preventing all drivers from using their mobile phones in anyway whilst driving. This may suggest to you that any future investments in phone mounts for cars would be a bad future investment for eBay. Likewise, a popular car accessories blog may publish an article about a specific item that generates a lot of discussion. You may want to use these types of signals to help inform your future wholesale purchase decisions.
Using external tools such as Google and eBay is a great way to identify emerging trends, however, creating your own blog, YouTube channel and/or social media platform for your eBay store could help you to gather your own in-house data.
Frequently Asked Questions

What is the best eBay trends tool?
The best resource you have for identifying trends within eBay is eBay itself. That being said, try not to rely on one research source, instead use a combination of a few of them.
If I Find A Growing Trend Outside of My Niche But It Is Profitable Should I Get In On It?
If you find a profitable trend then by all means ride the wave of a trend outside of your niche. Just be aware that you may not want to invest as heavily in stock. As and when that trend ends you will probably be left with stock that is difficult to sell at a profit as your competitors would have likely sourced the product for a cheaper wholesale price (economies of scale). For more on this check out the '
expanding you eBay business
' page of my site.
Make Money While You Sleep On eBay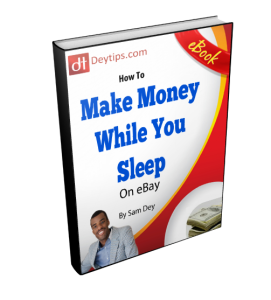 Enter your name and email address below to download my new eBook for FREE and learn exactly how to create an eBay business that makes money for you even while you sleep.
Email Me Your Questions
 Sam@deytips.com
Be The First To Get My Latest Tips:


Where You Can Find Me:
Hi guys its Sam Dey here the founder of deytips.com. For more useful tips and tricks to starting and growing your eBay business connect with me via the various social media platforms.
If you have any questions for me personally you can contact me at sam@deytips.com.